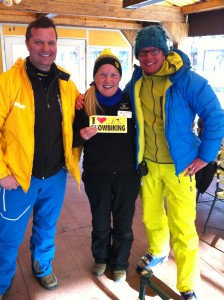 …..Call the Durango Mountain Resort Ski and Ride School at 970.385.2149 NOW and make your plans to take the Snowbike Experience. Lessons go out daily at 10 AM and 1 PM.  Class sizes are limited to 7 students and fill up fast. Due to the increasing popularity of the Snowbike Experience ADVANCE RESERVATIONS are strongly recommended.
Plan to arrive at the Ski and Ride School desk by 8 am the day of your lesson. This will allow enough time  to purchase your lesson, lift ticket and be processed by the rental center. Meet at the Snowbike rack at 9:30 am. Your Snowbike Instructor will meet you there and fit you with your Snowbike. Your lesson will begin promptly at 10:00 am and last until approximately 12:30 pm.
Make plans today, right now, to take the Snowbike Experience at Durango Mountain Resort.  The 2 1/2 hours you spend with us on the snow will be transformative and something you  never forget.
Come ride with us at Durango Mountain Resort.
Sparky and Donna "The Snowbike Lady"