Its 2016, El Nino is in full effect in Southwest Colorado, Durango Mountain Resort has new owners, a new name—kinda and EVERYONE is still having a great time with the Snowbike Experience.
Last spring Durango Mountain Resort was purchased by a new ownership group headed by James H. Coleman, Jr. and the very first thing he did was change the name back to —-Purgatory. That's the name they used back when Mr. Coleman learned to ski there. So now its called Purgatory Resort and we are called the Purgatory Snowbike Experience.
Some things have changed. We have a new name and logo. But lots of things remain the same. We're still here in beautiful Durango. Purgatory still has the same great,friendly people here to make your experience the best ever. And people are STILL having a lot of FUN taking the Snowbike Experience. Check out all of these smiling faces.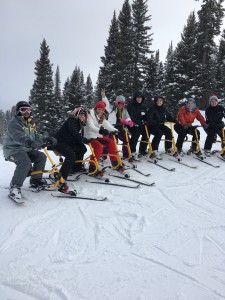 The snow is good. Conditions are great. And we're ALL having LOTS OF FUN!!! Come to Purgatory Resort this season and take the Snowbike Experience.